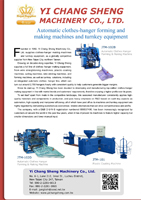 Founded in 1982, Yi Chang Sheng Machinery Co., Ltd. supplies clothes-hanger making machines and turnkey equipment, as a globally competitive supplier from New Taipei City, northern Taiwan.
Drawing on decades-long expertise, Yi Chang Sheng supplies a full line of clothes- hanger making equipment, from wire straightening machines, plastic coating machines, cutting machines, wire winding machines, and forming machines, as well as turnkey solutions, including an integrated automatic clothes- hanger line, which can turn out around 2,700 hangers hourly with consistent quality to help customers generate bigger margins.
Since its start-up, Yi Chang Sheng has been devoted to developing and manufacturing top-caliber clothes-hanger making equipment in line with market trends and customers' requirements, therefore enjoying a higher profile over its peers.
To set itself apart from rivals in the competitive landscape, this seasoned manufacturer consistently applies high-quality materials and components in production, and puts heavy emphasis on R&D based on such key aspects as automation, high capacity and manpower efficiency, all of which have paid off as its machines and turnkey equipment are highly regarded by demanding customers as economical, reliable alternatives that can drive competitiveness and profits.
The company, with a D&B D-U-N-S registration numbered 656537490, has been increasingly recognized by customers all around the world in the past few years, when it has improved its machines to feature higher capacity but smaller dimensions and lower manual input.